Looking more like an adult as I age, even if I don't always act like one
One of the unexpected things I've found about post-academic young adulthood is that liberation from the academic calendar has not liberated me from the need to organize my life by
some
calendar. I guess I shouldn't have been surprised by this, but I didn't really think about it much in advance. Most people, I suppose, just use the calendar year itself. But the positioning of my birthday at almost exactly halfway through a calendar year has made me more desirous of measuring my life in birth-years instead.
As part of this mental framework, I have taken to summarizing the most important things that happen to me in each year of my life (as measured from birthday to birthday). You can read the entries for
23
and
24
here. (You may note that they feature attempts to divine significance from the numbers of my age in each year; no such attempt will be made here, as the only thing I can think of is my aging beyond the Obamacare-stipulated period of parental insurance eligibility.) Herewith follows the entry for 25, an age I am no longer, as I continue my aimless journey through my ambiguous 20s.
-In July 2018, I went on a trip to visit Nashville, Tennessee, where I'd never been, to visit a friend who lived there. We had a great weekend. Perhaps the highlight for me was visiting an anechoic (i.e., completely soundproofed) chamber at Vanderbilt University, an experience I described
here
.
Laying down sick beats in an anechoic chamber
-In August 2018, I competed in my second beer mile, running a 6:35, a 20-second PR.
Just after completing my beer mile
Later that month, inspired by some of my recent travel experiences both in and out of America, I decided to go on a "tour" of my hometown of Cincinnati as though I weren't actually from there. The culmination of my tour was getting to the top of Carew Tower, Cincinnati's tallest publicly accessible building, and for the first time understanding Cincinnati's geography.
The view from Carew

-As August turned to September, I journeyed to a slightly larger city--Chicago--for a weekend of pizza, friendship, and
music
.
A slice of deep dish pizza from Lou Malnati's, which I enjoyed greatly
-In September 2018, I participated in two races: the (now-defunct) Navy Five Miler, in which I was 3rd (25:58), and the Race for Kids 5k, a charity race organized by a friend, which I won (15:39). I then met with family and friends in Ann Arbor for a weekend in Michigan, checking my Michigan box for 2018.
When in Ann Arbor...

-In October 2018, I made technically my second-ever "business trip," traveling to Notre Dame for professional reasons that happened to dovetail nicely with personal ones.
When in South Bend...
Later that month, on October 28 to be precise, I won the Marine Corps 10k (watch the post-race interview
here
),
recorded this podcast
, and read at Mass (taking over from a friend who had run the marathon), all on the same day.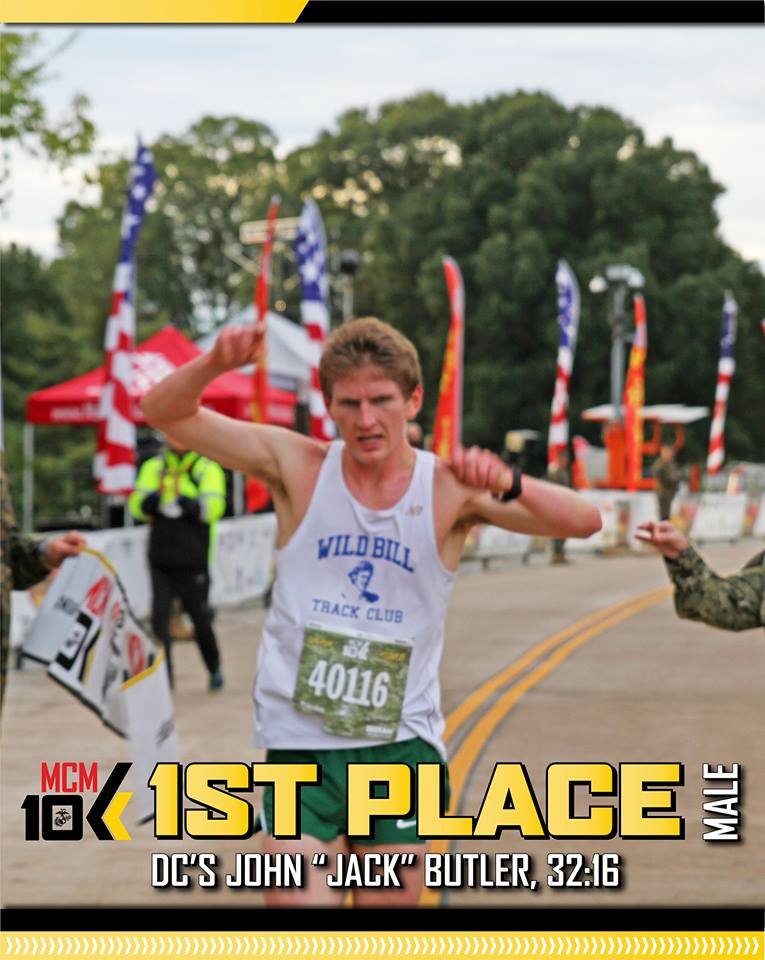 And this was only the first thing I did today.
-In November 2018, I completed my triple 10k autumn with a pair of solid races: first, the Veterans' Day 10k, in which I got 3rd place but managed a lifetime P.R. of 31:03.
Thanks to Cody Christensen for this picture of that race's finish.

And then, of course, I ran the Cincinnati Thanksgiving Day Race, placing 2nd (again) to J.J. Weber (again) with a course best of 31:44.
Near the end of the race
For more on my triple 10k autumn, go
here
.
-In December 2018, in the safety of my own home just after Christmas, I suffered a freak accident that kept me from running for the next three weeks, throwing my long-gestating plans to compete in the Boston Marathon in 2019 into doubt.
-In January 2019, I recorded an entire podcast on the music of Electric Light Orchestra (ELO), my favorite non-Beatles band. You can listen to it
here
. I also continued a long effort to claw my way back into shape despite severe cold, an effort that continued through February 2019. That month, I also agreed to go on another St.X trip to Italy as a chaperone.
-In March 2019, I did my first race since my freak accident: the Rock 'n' Roll Half Marathon, in which I ran the exact same time I did in the half marathon I ran before my first marathon: 1:12:39. My bib number was 12012 for this race; the bib number of the person just in front of me? 12011.
Weird
. I also recorded an entire podcast on
The Silmarillion
, a sort of Old Testament to
The Lord of the Rings
. Finally, at the end of the month, I returned to Michigan for reasons I hope become apparent to the world someday, but which I cannot currently reveal.
-April 2019 was one of the busiest months of my life. First, there was obviously the Boston Marathon, which I improbably made my way to despite all of the year's obstacles. I have already written at length about that
here
.
This picture was taken just after I finished. It's a good summary of how I felt
One week after Boston, I returned to Nashville for a friend's Bachelor Party. There, I played paintball and successfully heckled a live band at a bar into an amazing rendition of "Free Bird."
I also discovered that my 7-year-old canteen looks a lot like a paintball canister
And the weekend after that, I ran three legs as part of a team for the American Odyssey Relay. The highlight of that experience for me was the inadvertent fulfillment of a long-held wish that came when I led myself on a Civil War battlefield tour at night (a "ghost tour"), as my second leg happened to take me through Antietam and Sharpsburg at 2 am, almost completely alone.
The team. We ended up 3rd overall
-In May 2019, I finished editing the first draft of my novel, which I guess means I produced a second draft of it. Someday I hope you'll all be able to read it!
-In June 2019, I returned to the Midwest for the wedding of which the aforementioned Bachelor Party was the prelude. And then I returned home (briefly) before heading off to Italy with my high school (again!).
There are many pictures on Facebook
, but this seems to be the most popular:
At the Trevi Fountain, which was closed the last time I went
-In July 2019,
my podcast
celebrated its one-year anniversary. And today, on my 26th birthday, I finished reading
Heretics of Dune
, which seems appropriate, for some reason.
So there you have it: That was my life in my 25th year. I may not be able to arrest the passage of time, but as long as I make each year
feel
like it was full of life, then I can at least be happy with what I've done as the years continue to go by. Here's to being 26, whatever this year may bring.